Worldwide 24 hour Emergency Assistance
World Nomads helps travellers from more than 130 countries. Wherever you are, we're there to help!
Find the emergency assistance contact details in the list below depending on your country of residency.......and so we can best assist you, please be ready with the following:
Your policy number

A contact number for where you are now
The nature of your problem
If you are ill or injured we will need details of medical consultations you have had
New underwriter for UK, IRE, EU and AU travelers
25th July 2019
From August 1st, World Nomads travel insurance for travelers from the United Kingdom, Ireland, Europe (EEA countries) and Australia will be underwritten by members of the AXA Group, one of the world's leading insurers.

There will be no change to the service provided by our Emergency Assistance, Customer Service, and Claims servicing. Importantly, World Nomads' name hasn't change, just our related corporate entities and their relationship to the new underwriter from the AXA Group in Ireland, United Kingdom, Europe and Australia.
There is no change to any travel insurance product for purchases made before 1 August. There is also no change to our products or insurance partnerships in USA, Canada, New Zealand, Brazil, China or Philippines.
New UK product from 1st of August 2019
From 1 August 2019, a new UK product will be available, which includes coverage for overseas medical expenses caused by a terrorist event overseas. There are also some minor changes to the UK policy to make it easier to understand the policy, including: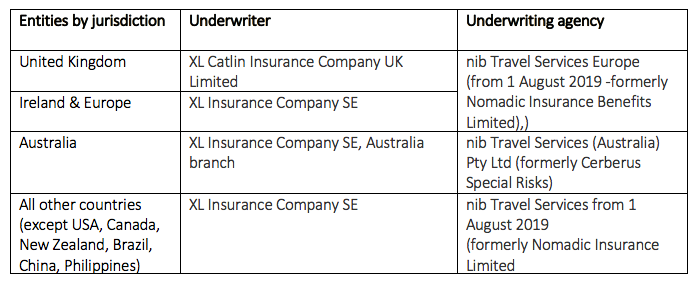 Why are we making these changes?
The nib Group of companies have chosen to align its travel insurance business with members of the AXA Group, one of the world's leading insurance providers.
WorldNomads.com Pty Limited (ABN 62 127 485 198 AR 343027) at Governor Macquarie Tower, Level 18, 1 Farrer Place, Sydney, NSW, 2000, Australia is an Authorised Representative of nib Travel Services (Australia) Pty Ltd (ABN 81 115 932 173 AFSL 308461) (formerly known as Cerberus Special Risks), and is underwritten in Australia by XL Insurance Company SE, Australia branch (ABN 36 083 570 441)
and in New Zealand by certain underwriters at Lloyd's.
World Nomads Travel Lifestyle (Europe) Limited (CN 601852) markets and promotes travel insurance products of nib Travel Services Europe Limited trading as nib Travel Services (CN 601851), First Floor, City Quarter, Lapps Quay, Cork, Ireland, and underwritten by XL Insurance Company SE and XL Catlin Insurance Company UK Limited. nib Travel Services Europe Limited trading as nib Travel Services is regulated by the Central Bank of Ireland.
WorldNomads.com Pty Limited markets and promotes travel insurance products of nib Travel Services Limited (License No.1446874) (formerly known as Nomadic Insurance Limited), at PO Box 1051, Grand Cayman KY1-1102, Cayman Islands.
World Nomads Inc. (1585422), at 520 3rd Street, Suite 201, Oakland, CA 94607, plans are administered by Trip Mate Inc. (in CA & UT, dba, Trip Mate Insurance Agency) at 9225 Ward Parkway, Suite 200, Kansas City, MO, 64114, USA, with 24-hour and Assistance Services provided by One Call Worldwide Travel Services Network, Inc. and plans underwritten by Nationwide Mutual Insurance Company and affiliated companies, Columbus, OH.
World Nomads (Canada) Ltd (BC: 0700178; Business No: 001 85379 7942 RC0001) is a licensed agent sponsored by AIG Insurance Company of Canada at 120 Bremner Boulevard, Suite 2200, Toronto, Ontario, M5J 0A8, Canada. World
Experiences Seguros De Viagem Brasil Ltda (CNPJ: 21.346.969/0001-99) at Rua Padre João Manuel, 755, 16º andar, São Paulo – SP, Brazil is an Authorized Partner (Representante) of Zurich Minas Brasil Seguros S.A. (CNPJ: 17.197.385/0001-21) at Av. Getúlio Vargas, 1420, 5th floor, Funcionários, Belo Horizonte, State of Minas Gerais through the SUSEP Process 15414.901107/2015-77.
All World Nomads entities listed above, including nib Travel Services Europe, nib Travel Services Limited and nib Travel Services (Australia) Pty Ltd, are subsidiaries of nib holdings limited (ABN 51 125 633 856).
More ways to get help
From experience we understand that the telephone isn't always suitable for every situation. Here are other ways you can get in touch if you need help.
These channels are monitored during business hours in Australia: 8am - 8pm Monday - Friday and 10am - 2pm on Weekends AEST.

Email us
Email isn't as fast as the telephone but our customer service team monitor this during business hours.

@NomadsHelp 
 
Twitter on your phone is particularly good if you are able to access WiFi and is monitored during business hours.
Facebook
Many of our travellers are on Facebook and so are we. If you have WiFi access, you can always ask for help on our Facebook page which is monitored during business hours. (Monday - Friday 8am - 8pm and on Weekends 10am - 2pm AEST).
Travel insurance doesn't cover everything. All of the information we provide is a brief summary. It does not include all terms, conditions, limitations, exclusions and termination provisions of the plans described. Coverage may not be the same or available for residents of all countries, states or provinces. Please carefully read your policy wording for a full description of coverage.
World Nomads is supported by various underwriters throughout the world depending on your country of residence.